James felt the familiar tug behind his belly button as they Apparated away. It was over before he knew it, but because he was quite drunk, he immediately lost balance when his feet connected with the ground again. He knocked himself and Lukas to the ground, landing on top of the other man.

He didn't move for a few minutes, just because he couldn't bring himself to move his heavy limbs. Then he pushed himself up with his hands, so he was hovering a few inches above Lukas' face. "Have you ever been, uhm, you know," James paused her for a moment, not wanting to say the words. "With another man?" he asked.
_________________
"Naw man." Lukas said, but he was too drunk to care about the gender of this person. He pushed James of him and stood up, a little wobbly on his feet.

"You coming or not?" He asked and reached out his hand, planning on helping the other man up.
_________________
James rolled back to the ground and sat up. He grabbed Lukas' outstreched hand and pulled himself up, still not very balanced. He chuckled and then pulled the other man with him. "Yes," he said, as he made his way to his bedroom. James wasn't a really neat person, so the floor was covered in clothes, but he didn't care.

James pushed Lukas down on his bed and then climbed on it himself, straddling him. He didn't wait and pressed his lips against the other man's once again.
_________________
Lukas did not like not being on top, never had, so with one movement, he quickly flipped them over, noticing the room for the first time, he looked around for a moment, seeing the clothes on the floor, James was clearly not as neat as himself, but he was considered a very neat man.

Looking at James, he smiled and crashed his lips into James' again.
_________________
James couldn't help but grin as they were flipped over. He usually was the one in control, but he didn't mind the change. When Lukas kissed him again, James moaned into the kiss, not able to stop himself. He wrapped his arms around the other man's waist and pulled him down, so he was lying on top of him.

James moaned again and he arched up.

(I shall not type out the rest because that shall not be PG-13. And I shall not corrupt anyones mind.)
_________________
Lukas looked at the other man and smirked, but suddenly, the room started spinning and he suddenly felt really tired, he kissed the other man's lips passionately, moaning and biting James' lip teasingly.

He rolled to his back and his eyelids were getting heavier, the room spinning faster and faster. Finally, his eyelids finally closing and everything went black, he was not going to wake up until in the next morning.
_________________
Terra apparated in front of James's, her best friend's, house. She had just received word that his father had passed from her mother. Terra was absolutely devasted, and couldn't imagine what James was going through.

Not even bothering to knock on the door, Terra walked into James' house and looked around for him. When she didn't see him, she decided to try his bedroom.

"James?" she called, opening the door.

James was in his room, but he wasn't alone. He was with anther guy. Her eyes widened, and her face turned red as she tried to get out of the room quickly, walking backwards. Her foot caught on a pile of clothes that lay on the floor, causing her to fall back with a loud squeak.

I cannot believe this is happening, she thought, her face getting even redder as she tried to get the clothes off her foot.


_________________
Can GM Sky Rider, Laura McKinnon, Alec Sparx, and Iggy.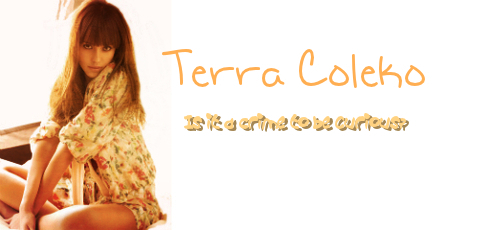 Admin




Posts

: 116


Join date

: 2011-05-22


Age

: 22


Location

: Mars



It didn't take long for James to fall asleep. It was a dreamless sleep he needed, he hadn't slept much after he heard what happened to his father. But when he woke up, it wasn't that peaceful anymore. James could feel a body beneath his arm and against his leg. His head was pounding so much it hurt. He just wanted to go back to sleep.

But then he realized, why he had woken up. He shot up and looked at where the squeak had came from. On the ground was his best friend, Terra, who was staring at him, and the person who was currently in his bed. Who was, James just realized this, was male. All he could think at the moment was; "Oh shit."

"Uhm, hello," James said, he would slip out of bed to help his friend up but he couldn't remember if he was dressed or not and he realized that he could better be safe than sorry. This was so not helping his massive headache. "I uhm, I wasn't expecting you," he then stammered out.
_________________
Lukas heard some noises in the room and he opened one eye, he didn't know where he was and he felt like his head was exploding. He looked around for a bit, the room wasn't one of his, that was for sure, and it didn't look very girly. He didn't remember a lot from the night before, but he felt the presence of someone else in the room so he turned around in the bed.

To his surprise he saw a man sitting on the bed, and he said something to someone, Lukas didn't see anyone else in the room so he sat up and saw a woman on the floor trying to get some clothes off her foot. He froze and his face started to redden.

"Uhm, hi there." He said awkwardly and stared at the man and then at the woman, still trying to figure out where he was.
_________________
Terra didn't know that it was humanly possible to blush as much as she was now. It seemed that her situation was getting worse and worse with each second that passed.

Opening and closing her mouth to speak, Terra tried to stammer out a comprehensible sentence. "Uh, hi, J-James. I, uhm, came by b-because of...your dad," she choked out, her eyes trained on the clothes that was still wrapped around her foot.

She sighed in frustration, and took off her shoe. Slipping her foot out of the clothes' binds, she put her shoe back on. Terra stood up quickly, stumbling for a bit before she straightened up. Noticing that the other man was awake, she practically died of embarrassment.

"Hey," she said, looking everywhere but at the two men. "Uh...so..." she trailed off, the awkward atmosphere suffocating her.




_________________
Can GM Sky Rider, Laura McKinnon, Alec Sparx, and Iggy.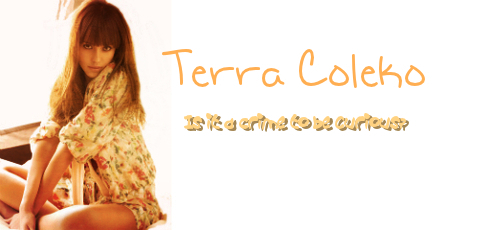 Admin




Posts

: 116


Join date

: 2011-05-22


Age

: 22


Location

: Mars




---
Permissions in this forum:
You
cannot
reply to topics in this forum