"I love youuuuu!" Liz sing-songed, grinning at her Professor/Aunt/Sister's friend. She'd gone over to Terra's office on a fine Saturday morning (well, it was more like lunch time, Liz'd never get up early on the weekend) to ask Terra to come shopping with her on the upcoming thursday. You needed to get a Professor's permission and guidance if you wanted to leave the school grounds (not that, that stopped everyone) and besides that fact, Liz liked shopping with Terra.

Closing the door, Liz turned around but stopped quickly when she noticed her own brother making his way towards the office.

"What are you doing here?" she questioned, eyebrows furrowed. "Ooh, did you get in trouble?" she grinned. She liked it when someone else than her got in trouble. Especially if it was one of her siblings.



Posts

: 111


Join date

: 2011-08-02



So, he had to admit he was feeling pretty guilty. And hungover, but that was something he was used to. Guilt was not. And Mel's letters just made him realise how guilty he actually felt.

So he had decided to pay a trip to Terra herself, just to apologise and assuage his guilt a little (and maybe the punishment while he was at it).

What Will hadn't bargained on, however, was bumping into Liz, his youngest sister currently at school, who had seemed to have had a similar idea. Wincing a little as she spoke (it seemed to set his hangover right off), he shook his head.

"Nah, I'm getting out of trouble, aren't I?" he said, smirking at her before frowning. "What are you doing? Trouble making, arse licking or visiting?" He rolled her eyes at her chipper attitude (were you allowed to be that happy at this time? What even was the time? Was it morning or night?) he wiggled his fingers in a wave to her before knocking on Terra's door.


Terra was smiling when there was a knock on the door. She had just made plans with Liz (something she was extremely excited about) and had called for the person to "come in!" in a really happy voice.

Liz was, honestly, one of her favorite people to be around, even if she was a bit snarky and sardonic.

The ecstatic smile she wore slipped off her face as she saw who entered. Yes, she was still annoyed with William freakin' McKinnon.

Terra had talked to Melanie (McKinnon, not Frost) about the incident because, to put it plainly, she was upset. No one had ever walked out on her class before, and she was really put out by it. Perhaps it wouldn't have hurt as much if it had been anyone else.

"Mister McKinnon," Terra greeted, forcing a smile for what seemed like the first time in her life, "what can I do for you?"
_________________
Can GM Sky Rider, Laura McKinnon, Alec Sparx, and Iggy.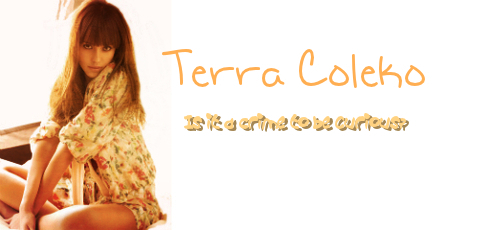 Mister McKinnon. Ouch. Will winced at the name and shoved his hands into his jean pockets, smiling apologetically at her as he stood awkwardly by her door. Merlin, this was the worst thing ever. Terra was like the cutest thing ever. He genuinely hadn't meant to upset her.

"Um," he began, trying to think of something to say. All words seemed to have escaped him now. "Hi. Look, I just... I know you'll think I'm just trying to get out of homework or whatever but I'm serious, I do kind of feel terrible now and I'm sorry and can I make it up to you somehow or something because I just don't know what to do."

He leaned against the doorframe and looked at Terra apologetically. "Basically I was a bit of a twat to you and I'm sorry. But believe me, it wasn't intentional. I just... God do you have any water in here? My head is banging."
Terra pursed her lips, trying to conjure up all the annoyance she felt.

Will was apologizing.

Damn it.

She couldn't not forgive him. It was against her nature.

But, hell, she didn't want to forgive him.

She tried to hold out, she really did, but the apologetic look he was sending her was diminishing all her bitter feelings.

C'mon, Terra! You can stay mad! Don't give in!

And he just kept talking, and her irritation returned.

"Are you hungover?" Terra asked incredulously."Really, William? You come to apologize after you spent the night getting wasted?" Sometimes, she felt like her maternal tendencies made it impossible to be extremely strict, but right now they just made her all the more angry. She was glad for that.

"I thought you had enough self-restraint to keep yourself from drinking on campus--especially since you're supposed to be a role model for your siblings--or at least the common sense to not show up to a teacher's office reeking of booze. I have a half a mind to make you serve a detention with Professor Wyatt or Professor Mohr," Terra drawled, gritting her teeth.

Was it her, or did McKinnons think that they could do whatever the hell they want? Damn them...
_________________
Can GM Sky Rider, Laura McKinnon, Alec Sparx, and Iggy.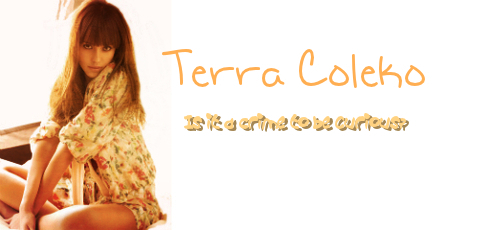 It was arguably better when she was cross. At least she wasn't as hurt, it assuaged his guilt a little. Still, Will stared straight faced and stock still at her, trying not to feel even more guilty.

"I don't have to be a role model at school, do I?" he answered her quietly, not quite able to meet her eyes. "I just... I'm sorry, Terra. Professor. Look, just let me start again." His headache really was bad though. His face felt heavy as if he were ill. Which he guessed a hangover was, mild alcohol poisoning. Oh God, he had screwed up this time, hadn't he?

"Oh gosh, do you have to?" he asked with a mild laugh. The two professors she had named were psychopaths and he'd rather stick to the ten thousand word essay.

"I am genuinely sorry, you know," he told her with a sigh. He didn't know how much help that would be to her but he couldn't help but feel he hadn't said it enough. "I know it sounds stupid. Ugh. Everything I say sounds stupid." He wanted a drink. He always wanted a drink. "Please could I have a glass of water?" he asked again, deciding he should at least try to resist his want for alcoholic beverages for Terra's sake if not for his health. He blamed Odair. He always blamed Odair.
Oh, Merlin. She couldn't do this. That look on Will's face...

Terra bit her, trying to ignore the horrible feeling she felt in her gut--guilt, she noted--as he called her "professor". Her resolve to stay angry was wilting and she knew it.

To be honest, she was probably overreacting about the whole thing, but, well, Terra had a tendency to under-react. Any form of reaction was technically considered an overreaction coming from her.

"I suppose they would take the punishment to a whole new level," Terra joked, trying to ebb away her own guilt at making Will so...sorry. "I swear, they were wardens in a past life."

Though the fact that Will was drinking (in general, really) ticked her off, Terra sighed (a bit too loudly to be anything but melodramatic) and pulled out her wand, summoning a pitcher of water and a cup that read 'KEEP CALM AND TAKE HISTORY OF MAGIC'.

"I guess I forgive you," Terra said awkwardly, stowing her wand away. "But don't even think about not doing that essay," she warned, trying to sound stern even though she probably wouldn't hold him to it.

Laura had already talked her out of enforcing the punishment on Lucy. She'd just take five points from Lacerta instead. It had been a hard decision (what with house pride and all), but she just couldn't say no to Laura's big brown eyes and innocent smile.

Damn that McKinnon.
_________________
Can GM Sky Rider, Laura McKinnon, Alec Sparx, and Iggy.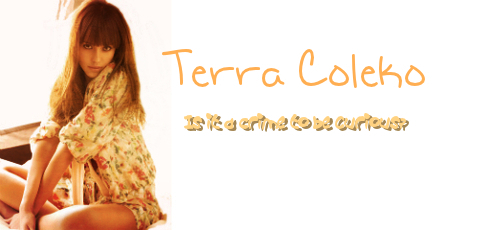 ---
Permissions in this forum:
You
cannot
reply to topics in this forum