(o.o.c: Just to clear everything up, this thread starts when Mel leaves Jack at Zoltan's.)

Melanie had no idea where she wanted to go, she didn't want to go to Ari's, Liz would probably be there and she did not fancy being seen like this by the she-devil, that Liz was.

So she decided on the next person that came to her mind; Terra. Mel wasn't even sure how she ended up at her house, she'd just walked in something that seemed a random direction, but it eventually led her to Terra's house.

She knocked on the door once, before her legs gave up on her and she ended on the ground, in front the door, not being able to hold in her tears anymore.
_________________
I love you Effy
Terra had just been cleaning her attack, much to the annoyance of the resident ghosts (honestly, those things were such divas!) when there was a knock on her door. She couldn't think anyone that would be at her house; Liz and Mel were at Ari's last time she checked, and James was Merlin-knew-where doing Merlin-knew-what.

Putting down the scroll she had been reading earlier (something about Time Turners and what-not), the brunette climbed down from her perch on a ladder rung, wiping the dust and grime off of her forehead, and made her way to the front door.

There was no one there, she had thought, until she heard the sounds of crying. Her eyes were drawn to the girl who was crumpled on her doorstep. "Mel?" Terra asked, shocked. "Wh-what are you--what happened?"

The elder woman knelt down next to the redhead, wrapping an arm around her gently. "Sweetie?" she asked, trying to gently usher her into her house. "C'mon, honey, let's go inside. You can tell me what's wrong."
_________________
Can GM Sky Rider, Laura McKinnon, Alec Sparx, and Iggy.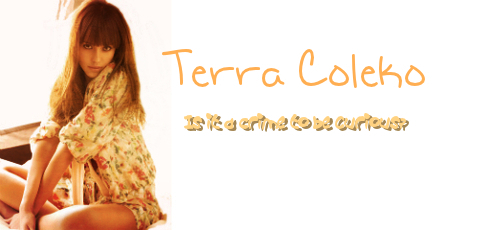 Mel let Terra help her stand up, wrapping her arms around the woman, she buried her head in Terra's warm embrace, hiding her face away. "We.." Mel trailed off not being able to form a sentence. A large sob escaped from her mouth. "...it's all... oh.. over."

Her tears were free falling from her eyes, down her cheeks and wetting her own clothes and Terra's, but she couldn't force herself to try to stop them or wipe them away.

"He... he doesn't love me." Mel managed to whisper out, her chest tightening and her knee's buckling again but she hung onto Terra for dear life, not wanting to fall back on the ground. "It's just-just-just all.. b-broken."
_________________
I love you Effy
Terra led Mel into her house, shutting the door as she steered them towards the livingroom and to a couch. Her arms stayed locked around her almost-niece, rubbing her back gently. "What's over, dear?" she asked quietly, hoping she wouldn't upset the girl more by trying to figure out what was wrong.

She could feel her heart crack slightly as Mel's tears soaked into her shirt. Terra had never seen the girl like this, and she felt slightly overwhelmed. The redhead's next words made her feel more helpless. How could she help Mel through this? She'd never felt anything close to what she thought her niece was feeling.

"Who doesn--it'll be alright, Melly," Terra said, brushing the girl's hair back. She had stopped herself from asking the question she wanted to know the answer for, thinking that it would only make her feel worse.
_________________
Can GM Sky Rider, Laura McKinnon, Alec Sparx, and Iggy.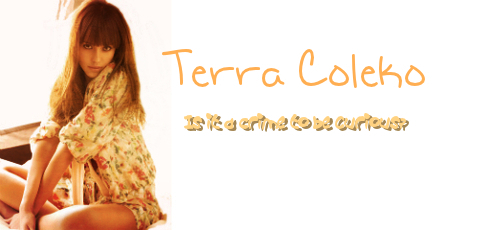 "I can't! I can't! I CAN'T!" Mel broke free from Terra and sat down on the couch, pulling her legs up and into the couch as well, she wrapped her arms around them, rocking back and forth slightly. "Terra, I can't." she said, her voice breaking.

Melanie wanted to tell Terra everything, she really did, but she wasn't sure she could. Or how she could tell her. She didn't have any words to describe it. How would she explain that her best friend had told her he loved her and that she had broken his heart and then he told her he didn't mean anything that he said and then for some reason it hurt. Her heart had hurt. It still hurt.

"I... I think.." she choked on her words, not being able to finish her sentence and instead broke back into tears. That I love him.
_________________
I love you Effy
Terra bit her lip, trying not to flinch as Mel started to yell. She wasn't used to being yelled at, but she didn't blame the girl for doing it. Slowly lowering herself next to Mel, she placed a hand on her shoulder, squeezing it reassuringly. "You don't have to talk about it," she said, "but I'm here if you want to."

Never in her life had Terra felt so useless. Her parents made this seem easy, but it wasn't. How did she know when to stop asking questions? When to keep pushing?

"You think...?" the brunette prodded gently, pulling Mel closer to her and wiping the girl's tears away. You need to tell me what's wrong, Terra thought, staring up at the ceiling, silently praying everything would get better.
_________________
Can GM Sky Rider, Laura McKinnon, Alec Sparx, and Iggy.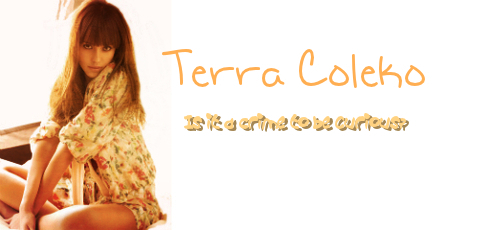 Mel gave away a pained cry. "I dont know how to explain it." she said, breathing so heavily that she ended up gasping for breath. "I... I have no one... anymore, Ter."

She gasped again, few more tears falling down her face. "They're all gone, Le-Wy-Wyatt, Zol... Zoltan and-" she couldn't make herself say it, instead she gave away another sob and burried her head into Terra's shoulder.

The red head really couldn't deal with all this pain, she didn't know how she was supposed to do it. She couldn't even understand why there was so much pain, there were just so many things and she had no idea how to deal with them.

_________________
I love you Effy

Similar topics
---
Permissions in this forum:
You
cannot
reply to topics in this forum