Ari sat cross legged in her brother's apartment, perched next to a stack of films.

She sighed and leant back, humming an old Arctic Monkeys song as she waited for her girls (both female and honorary) to arrive. It felt weird, being first there when it wasn't even her house.



Posts

: 62


Join date

: 2011-06-27



Melanie all but jumped into her uncles house, the doors were open so she just walked - bounched - straight in. She twirled around the house which seemed emtpy.

"HELLO?" she yelled out, hearing a noise coming from one room she decided to head in that way.

"ARI!" she greeted as she noticed her aunt and ran towards her with a big smile spread all over her face.
_________________
I love you Effy



Posts

: 331


Join date

: 2011-05-24



Terra arrived at James' house just in time to see a familiar redhead bounce inside. Sighing, she walked towards the door, hesitating for minute before she walked in. The last time she was here was a very awkward and very memorable.

"Melly? Ari? James? Hello?" Terra called, running a hand through her hair. She didn't really want to walk in for fear of another awkward moment.

Hearing somebody scream 'ARI!', Terra decided to follow the sound. She walked into a room where Mel and Ari were sat.

"Hey, guys. Where's Jimmy?"
_________________
Can GM Sky Rider, Laura McKinnon, Alec Sparx, and Iggy.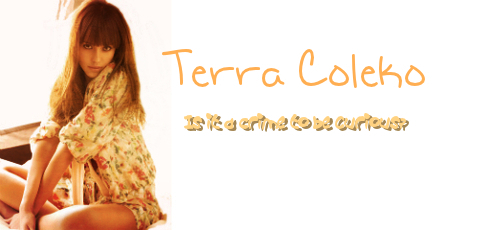 Admin




Posts

: 116


Join date

: 2011-05-22


Age

: 22


Location

: Mars



"Mel!" Ari grinned as her niece launched into view, hugging her. "How are you, my dear?"

Mel's appearance was quickly followed by Terra, her brother's best friend. "Hiya!" Ari greeted cheerfully. "Long time no see! How are you?"

She leant back and shrugged as Terra questioned James's wherabouts. "He could be anywhere, but I have no idea. Oh well."



Posts

: 62


Join date

: 2011-06-27



James apparated back to his apartment with a crack. His hair was tousled and his blouse wasn't completely buttoned, not how you would normally see him. James opened the door of his apartment with his wand, not caring about his appearance. He was just going to take a hot shower and... When he heard someone cry out ARI! he suddenly realized that he wasn't alone.

It was girls night. He hadn't agreed with that name of course, but his best friend, favourite niece and [s]only[/s] favourite sister had refused to change it.

He quickly started to button his blouse completely, hoping they hadn't heard him come in. "In here!" he yelled as he finished buttoning up his blouse. He had forgotten about his messed up hair completey.
_________________



Posts

: 117


Join date

: 2011-05-26


Age

: 24


Location

: Behind you.




Similar topics
---
Permissions in this forum:
You
cannot
reply to topics in this forum